Military Steins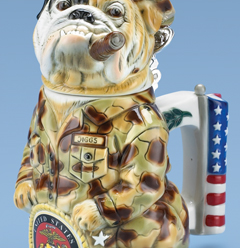 We offer a wide variety of different stein bodies available throughout the website.
We currently have licenses to use all military emblems:

Army Emblem and U.S. Army Logo (3 color)
U.S. Marine Corps
U.S. Navy
U.S. Air Force
U.S. Coast Guard
These can all be used in conjunction with your platoon or battalion logos.

Minimum Order Requirements and Charges
If your logo is 1-8 spot colors, the minimum decal decoration print run is 130 pieces.
If your logo is full-color process, the minimum print run is 250 pieces.

We bill for the decoration separately from the stein body, so if you only want 50 stein bodies decorated, the balance of the decals are billed to you and we will stock them for reorders.

An example of a typical order is:
130 pieces 26066 Muehleck 0.5L stein with conical lid ($17.75 less 10% or $15.98 net ea)
130 pieces 6 spot color decoration at $1.50 per decal
(exact quotes will be given when we see your artwork, metallic gold and silver is extra)
Development fee: typically $180.00 for a 6 spot color decoration
If a fired sample is required before production, there is a $100.00 proof print fee.
(This is generally not necessary.)
For full-color process decorations, we do suggest a proof in advance.

All steins are decorated and lidded in Germany.
Please allow 90 days for delivery.
FOB: St. Paul, MN

Please don't hesitate to send a Custom Order Inquiry and we will get pricing back to you immediately.